Cast (in alphabetical order):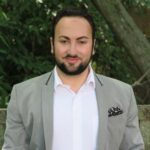 Drew Russell DuBoff, he/him
(M. Fedou, Heinrich, Police Officer #2, Oscar)
Drew is excited to be a part of such a profoundly Jewish musical. Theatre: Bird in the Window (Drag Queen Maxie), Kinky Boots (Mr. Price), SpongeBob (Perch Perkins), Camelot (Mordred), Something Rotten! (Brother Jeremiah), Twelfth Night (Malvolio), Shrek (Big Bad Wolf), All Shook Up (Chad), Baby (Doctor), Memphis (Ensemble), and Head Over Heels (Ensemble). Concerts: There But For You Go I Soloist in A Lerner & Loewe Celebration (Ritz Theatre Company). Film: A Fragment of the Day (dir. C.P. Gorelick). Drew recently judged musical solo at the NJ Thespian Festival. He studies with Melissa Daniels (Musical Theatre / CCM) and Benjamin Bass (Non-Dominant Acting at Broken Mirror Studio). Drew enjoys playing the gender-bending, buffo, baddie, and beau who sing kinda low.
Shelley Z. Goodman, she/her
(Madam Kahn, Aunt Hannah, Mme. Fedou, Tutor)
Shelley is excited to be back on the stage for the second time this year after a hiatus since 1977, when she did community theater in York, PA. She had roles in Man of La Mancha and Cyrano, and was a member of the stage crew of You're A Good Man Charlie Brown. In February 2023, she was in the ensemble of the production of The Drowsy Chaperone, with the Beth Shalom and Adath Jeshrun Players. She was a member of the Meyers Community Choir for ten years until 2020, and also in Voices Rising Philly choir pre-pandemic. Shelley resides in Elkins Park with her adult daughter Angie and four year-old granddaughter Lily (a preschooler at Abington Friends School), two dogs and a hamster, and has a busy full time psychology practice. She also has two other adult children (Betsy and Alex), 4 other grandchildren, a great-grandson, and another grandson expected in August.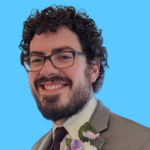 Ari Heitler-Klevans, he/him
(Man from the Resistance, Police Officer, Nazi #1)
Ari is delighted to join this talented cast for this thoughtful and evocative musical! He brings to his ensemble role experience as Leon Czolgosz in Assassins and Johnny Casino in Grease, as well as almost 2 decades of performing experience with the folk music group Two of a Kind (who happen to be his parents). He has loved singing with this cast and sharing this important story.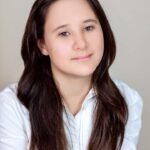 Sophia Kogay, she/her
(Emmy, Granddaughter, Lucette)
Sophia is a 7th grader at Valley Forge Middle School and is thrilled to be in the production of "Hidden, The Musical." Some of her previous credits include Young Eponine in Les Misérables school edition (SALT), Alice in Matilda (SALT), Lumiere in Beauty and the Beast Jr (Community through Song), featured dance ensemble in the Wedding Singer (Revival), and a featured dancer in GREASE (Jennersville YMCA). Sophia is all about music and theater and when not exploring acting on stage, she is taking vocal classes and Ballroom and Latin dance classes. Sophia thanks Robin, David, and the whole cast and production team for giving her this wonderful opportunity to be in this great show and learn about all different aspects of acting! Sophia would like to thank her vocal teachers Matthew Johnson and Julia Udachina, and her amazing dance teachers Heather and Autumn from Chester County School of Arts, and Sergei and Alex from Fred Astaire Dance Studio in West Chester for inspiring her to dream big and making her laugh.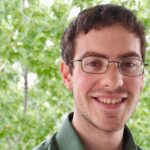 Jason Kramer, he/him
(Grandson, Conductor, Police Officer, Nazi #2)
Jason is returning to the stage after a long hiatus, and is excited to join his fellow cast members in bringing Hidden to life! In his spare time, Jason enjoys baking bread, playing trombone, playing D&D, and spending time with his wife and their dog. He hopes everyone enjoys the show and he thanks his wife and family for always supporting him.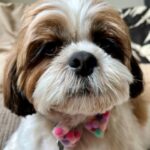 Sampson George Washington Kramer, slayer of dragons
(Mascot)
Sampson Kramer is so excited for this production, and is always happy to see the cast and directing team. In his spare time, Sampson enjoys walks, food, music, belly rubs, and cuddling! He wishes the cast the best!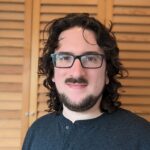 Joshua McHugh, he/him
(Papa, Police Officer #1)
Joshua is a resident of Glenside, PA. He has his Bachelors of Music in Music Education from Temple University. He is a cantorial soloist and Choir Director at Or Hadash Reconstructionist Congregation in Ft. Washington PA, and was the Bass Soloist / Section Leader at Arch Street United Methodist Church between 2012 and 2017.
During his time as a musician, he has sung with the choirs of Temple University and Video Games Live, was involved with collegiate a cappella singing as a member of Broad Street Line at Temple, and The A Cappella Project – Philadelphia after graduation. He enjoys arranging and recording his own a capella covers as a hobby.
Though his degree is in music, Josh currently works as an IT technician for the School District of Springfield Township. He is excited to spread his musical wings once again with the cast of Hidden and hopes you will find meaning in its powerful message.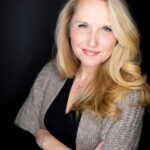 Kate Nice, she/her
(Maman)
Kate is a private vocal teacher and taught choral studies in the public school system for over 20 years. She has directed all ages (kindergarten – adult) in dozens of musical theatre productions over the years. She has performed in many productions – community-based and professional – including Company (Marta), Becky Shaw (Becky), Legally Blonde (Brooke), White Christmas (Judy), Fun Home (Alison), Snyder V. Phelps (Julie Snyder), and Freaky Friday (Katherine) at theatres such as Steel River Playhouse, Forge Theatre, Facetime Theatre, The Philly Fringe Festival, and Playcrafters. Kate is also employed by A-1 Entertainment as a featured vocalist in several performing groups which put on shows around the greater Philadelphia Area.
Finley Poskarbiewicz, they/them
(Town Crier, Sister Marie Louise, M. Valat, Jean-Claude)
Finley (they/them) is so thrilled to be a part of Hidden the Musical. This is their first musical since graduating Arcadia University in 2019, where they appeared as Shelby in The Spitfire Grill. Finley is a full-time Accounting Associate at HMP Global, has two rambunctious cats and has a B.A. in Directing and Dramaturgy. Finley would like to thank their boss for encouraging them to begin auditioning again and their partner for her unconditional love and support.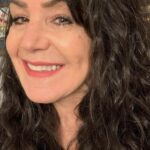 Linda Glazerman Roeder, she/her
(Adult Ruth, Mother Superior)
Linda has been an actress and singer for most of her life. She has played Nellie in South Pacific, Corie in Barefoot in the Park, Golde in Fiddler on the Roof, and the title role in Cinderella, as well as ensemble roles in Cabaret, Oliver, and My Fair Lady. Linda spent thirty-five wonderful years as an educator in Cheltenham Township, where she also directed musical theatre at Elkins Park School. Linda is now in her second act as a vocalist, voiceover and recording artist under the stage name Lindarella Raye. (www.LindarellaRaye.com)
She is thrilled to be part of this amazing project, sharing Ruth's story in Hidden.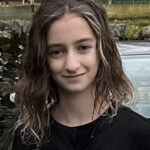 Sydney Zimney, she/her
(Renée)
Meet the talented and dedicated young actress, Sydney Zimney! Sydney has been passionate about acting since she was a toddler, and has pursued her dreams by attending Performing Arts Camp since she was only 3 years old.
With her unwavering passion for performing, Sydney has played many diverse roles throughout her career. She has played Mrs. Hannigan in Annie Jr, Sebastian the Crab in The Little Mermaid Jr, Iago in Aladdin Jr, Pinnochio in Shrek Jr, and Taylor in High School Musical Jr. These experiences have given her a great understanding of different acting styles and helped her develop her skills as an actress.
As she progresses in her career, Sydney continues to take on more complex and demanding roles. In her middle school, she played the role of Jack in Into the Woods Jr, which allowed her to showcase her versatility and dedication as an actress.
In addition to her work on stage, Sydney has also participated in various acting workshops and classes to further hone her craft. Her love for acting is evident in everything she does, from reading plays to practicing her acting skills at home. She has found her current role as Ruth/Renee in HIdden The Musical to be her most demanding role so far, but she is approaching it with poise and maturity.
Sydney is committed to pursuing her passion for acting and hopes to continue to inspire others to follow their dreams. She believes that with hard work, dedication, and a love for what you do, anything is possible!